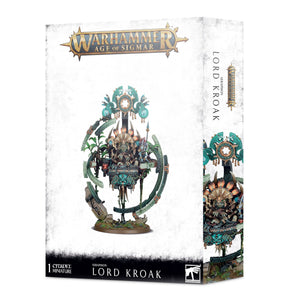 The most ancient and powerful of all the slann Relic Priests, Lord Kroak has cast a watchful gaze over the Seraphon's realms since time immemorial. Appearing unbidden when the myriad strands of the Great Plan are most threatened, his overwhelming arcane might crushes scores of foes beneath celestial meteors and the forgotten magics of the World-That-Was. 
As one of the foremost mages in the Mortal Realms, Lord Kroak is an indomitable figure despite his seemingly withered body. Casting and dispelling even the most difficult spells with the flick of a finger, he is no slouch in combat either and can flatten hordes of lesser soldiers with a single pulse of the esoteric energy barrier protecting him. Those who do manage to land a blow upon his wizened form are equally frustrated, as the indefatigable spirit within holds together in the face of all but the most grievous injuries. 
The kit is comprised of 56 plastic components, with which you can assemble one Lord Kroak, with an option to assemble one of two head variants. This model is supplied with a Citadel 80mm Round Base.