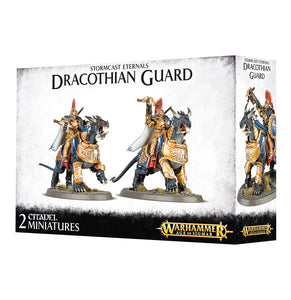 While their Dracoths charge forward spitting sizzling bolts of lightning, the Tempestors unleash the fury of their volleystorm crossbows, loosing a hail of bolts that burn like blazing meteorites. Tempestors can concentrate their fire to fell the most powerful of foes, or blast holes in enemy lines for other Dracothian Guard to exploit.
This multi-part plastic kit contains all the components necessary to assemble two Dracothian Guard Tempestors, armed with volleystorm crossbows, warblade and sigmarite shields and each mounted on a ferocious Dracoth.
This kit also allows you to make any of the following Dracothian Guard variants:
- Fulminators armed with stormstrike glaives and sigmarite shields;
- Concussors, armed with lightning hammers and sigmarite shields;
- Desolators, armed with thunderaxes and sigmarite shields.
One Dracothian Guard can also be optionally assembled as Lord-Celestant on Dracoth armed with a selection of weapons including tempestos hammer, thunderaxe, lightning hammer, stormstrike glaive and sigmarite shield. 
This kit comes in 80 components and is supplied with two 90x52mm Citadel Oval bases.