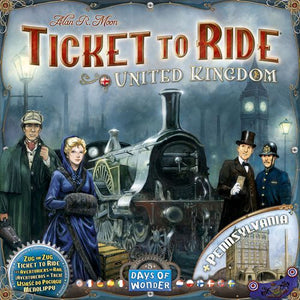 As an expansion for the original base game, Ticket to Ride United Kingdom and Pennsylvania adds new content and ideas on two new maps and multiple card sets. Much like its previous add-on releases, the change of the main board can radically alter strategies giving a completely different Ticket to Ride experience.
The United Kingdom map offers a fresh take on gameplay with a direct limit imposed at the start of the game on the players. You cannot build any more than a 1-2 train route. Because of this the wild cards in this can be used to purchase technologies. These allow many new abilities, such as Propellers giving you ferry access or a mechanical stoker that allows claiming of three space routes. There are 11 base technology upgrades alongside five advanced upgrades that are optional for the experienced player. The advanced technology cards are in more limited supply to the regular offerings increasing competition. Having to tactically claim
certain technologies can influence your route choice considerably.
For Pennsylvania, the game focuses on the northeastern U.S. state with a good spread of medium-to-long train routes. In addition to the normal base rules, this map adds an element of Share ownership to the mix. There is a mix of different companies with their own logos on listed routes. Each company has a different amount of shares available. As you take build trains and claim routes, if there is a
company logo present on it, you can claim a share. On some routes there is a choice of which company is available. At the end of the game players receive bonus points based on who has the most shares for each company, cascading down for lower shareholders. Tickets completed still affect your end game scoring and are as ever important for victory although a shrewd player will keep a keen eye on company shares. Exploiting locations to gain a share advantage over other players is important.
If you are looking to expand the available maps for Ticket to Ride and also add another layer of complexity, the Ticket to Ride UK Expansion Pack is an essential purchase.