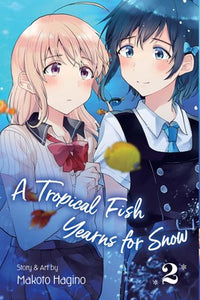 Sometimes you find what you yearn for…

When her dad gets a job overseas, Konatsu Amano has to leave the Tokyo life she's always known and relocate to a small seaside town to stay with her aunt. The move also means starting a new school surrounded by complete strangers, and it's a lot to handle for a girl who has trouble with change. But on her first day in her new town, Konatsu is instantly drawn to Koyuki, an older girl who is the sole member of the Aquarium Club. Konatsu's introverted tendencies are hard for her to overcome, but maybe she's found something worth coming out of her shell for?

From the moment they met at the Aquarium Club's open house, Konatsu has admired Koyuki and treated her like she wasn't a distant figure on a pedestal. In turn, Koyuki has been open and welcoming to the new girl who stirs her heart. When the time comes to pick a club, Konatsu chooses the Aquarium Club with Koyuki. And even though it's just the two of them, they manage to host a successful open house.
What's next for Koyuki and Konatsu, now that the shared experience has deepened the bond between them?