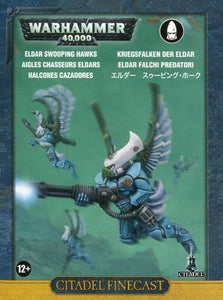 Due to this being a Webstore Exclusive, this product may have plain white Games Workshop packaging.
The Swooping Hawks are the swift airborne support of the Aeldari warhost. They wear wings made of vibrating feather plates that incorporate small gravitic lifters, allowing them to soar high above the battlefield before swooping down on enemy units, firing into them with lasblasters and grenade packs, before disengaging and leaping back into the sky. While they may be lightly armed and armoured, they are the perfect unit to take out enemy artillery, hunt down fast-moving vehicles and pin down flanking units.

This boxed set contains six Aeldari Swooping Hawks. These models are finely detailed resin cast miniatures. They are supplied as 20 separate components and come with six 25mm Round Bases. These miniatures are supplied unpainted and require assembly - we recommend using Citadel Super Glue and Citadel Paints.