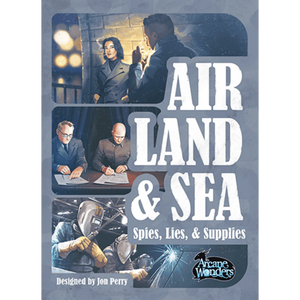 Supreme Commander! The enemy is upon us and it is up to you strategically deploy our available forces into the Air, Land, and Sea. Engage the opposing force and lead our forces to victory!
In the midst of the greatest conflict humanity has ever known, victory will be claimed by the ones that can overcome their enemies in every battleground, even those that may be less conventional.
Do you have the skills needed to manage your nation's Spies, Lies, and Supplies?
Spies, Lies, & Supplies is the sequel to the critically acclaimed original, Air, Land, & Sea. This box contains everything new players need to get started, or can be combined with the original game to unlock new match-ups and game modes.
Standalone: Just play with the 3 new theatres provided: Intelligence, Diplomacy, Economics
Mix with Base Game: Play with any combination of 3 theatres from either box: ex. Intelligence, Air, Land
Epic Mode: Play with any combination of 5 theatres from either box: ex. Intelligence, Diplomacy, Economics, Land, Sea