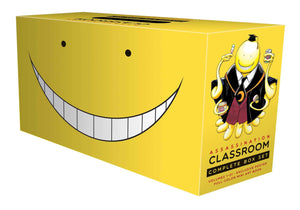 The complete bestselling Assassination Classroom series is now available in a boldly designed, value-priced box set! Includes 21 volumes of this unique tale of a mysterious, smiley-faced, tentacled, superpowered teacher who guides a group of misfit students to find themselves—while doing their best to assassinate him. Action-packed, hilarious, and heart-warming, this title is famous for moving fans to tears through their laughter... Includes an exclusive, full-colour, mini "yearbook" filled with images of favourite characters in different art styles and contexts (previously unreleased in the English editions).

Ever caught yourself screaming, "I could just kill that teacher" What would it take to justify such antisocial behaviour and weeks of detention? Especially if he's the best teacher you've ever had and determined to help you discover your hidden talents, raise your grades, and acquire opportunities you never dreamed possible? How about blowing up the moon and threatening to do the same to Mother Earth—unless you take him out first?! Plus a reward of a cool 100 million from the Ministry of Defense!

Okay, now that you're committed... How are you going to pull this off? What does your pathetic class of misfits have in their arsenal to combat Teach's alien technology, bizarre powers and...tentacles?