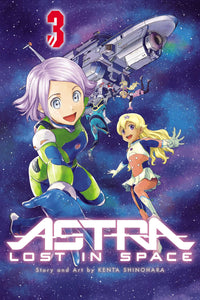 Can eight teenagers find their way home from 5,000 light-years away?
It's the year 2063, and interstellar space travel has become the norm. Eight students from Caird High School and one child set out on a routine planet camp excursion. While there, the students are mysteriously transported 5,000 light-years away to the middle of nowhere! Will they ever make it back home?!
After their nightmare on Shummoor, camp group B-5 arrives at the third planet on their journey, Aspirade. The planet has plenty of food, water and sunshine, making it a tropical paradise and the perfect place to relax. Even the lone wolf of the group, Ulgar, stars to open up! That is, until he suddenly pulls out a gun and threatens to kill Luca! Could Ulgar be the traitor the group has been desperately searching for?!
Science fiction survival epic from the creator of 
Sket Dance
!