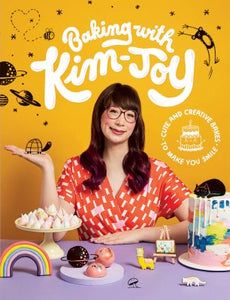 Infuse your baking with a sprinkle of glitter, a rainbow of colours and a menagerie of woodland creatures with the help of this unique baking book from everyone's favourite Great British Bake Off finalist, Kim-Joy!
If you've ever wanted to know how to bring your baking to life, Kim-Joy will show you how in this fun and practical book. As well as basic cake mixes, biscuit doughs, fillings/frostings and decorating techniques, she shares 40 of her wonderfully imaginative designs for iced biscuit creatures, big occasion cake
s, character macarons and meringues, ornate breads and showstopping traybakes. Recipes include step-by-step photography and adorable illustrations accompanied by little messages of positivity throughout.
Whether you want to learn how to make a llama cookie, a cat paradise cake, a panda-madeleine or a choux-bun turtle, there's something here to capture your imagination and spread a little (Kim-)Joy!