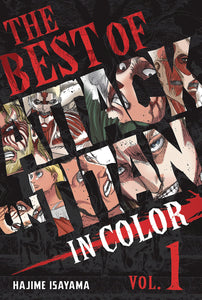 Own six of the most explosive chapters from Attack on Titan's 12-year run, selected by readers, editors, and creator Hajime Isayama himself, retouched and rendered in spectacular colour!
This collectible hardcover also includes the original, never-completed draft of Attack on Titan Episode 1. Experience the moments that defined Levi, Historia, Reiner, Eren, and more of your favourite characters-and then read all 54 pages of the Attack on Titan story that wasn't told!
On Sept. 9, 2009, Episode 1 of the Attack on Titan manga premiered in the debut issue of Bessatsu Shonen Magazine. A surprise hit in Japan became a global colossus, as the blockbuster anime premiered and brought legions of fans to this epic about humanity's struggle against monsters waiting outside the three Walls, and inside their own hearts.
This year, the manga finally comes to an end after 34 collected volumes and 139 chapters.
To celebrate, creator Hajime Isayama has authorized the colorization of twelve manga chapters, specially selected by himself, loyal fans, and other staff.
This premium hardcover includes the first half of his unique project, as well as the original version of Attack on Titan Episode 1, which was vastly different from what was eventually published twelve years ago. Vol. 2 will include the next six chapters, as well as the never-before-seen pilot version of Episode 2.

The perfect gift for an Attack on Titan fan looking back at one of the most sweeping sagas in the history of comics!
  
Contains:
  •   Episode 46: "Opening"
  •   Episode 81: "Promise"
  •   Episode 69: "Friends"
  •   Episode 126: "Pride"
  •   Episode 130: "The Dawn of Humanity"
  •   Episode 71: "Guides"
  •   "The Beginning" - Episode 1: The Original Sketches