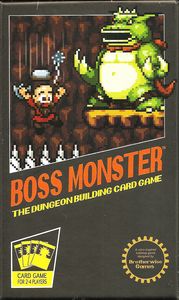 Inspired by classic video games, Boss Monster challenges you to become a villain, build a dungeon, lure adventurers, and destroy them!
The goal of Boss Monster is to attract and destroy adventurers more quickly than your opponents. As a Boss, you will build your dungeon one Room at a time. Each room has a treasure value to lure in Heroes, and a damage value to destroy them. The Heroes aren't too much of a threat, but you run the risk of Wounds if you build a dungeon that's all attraction and no bite. With Spells and "Level Up" abilities to spice up the gameplay, Boss Monster has a great balance of fast-paced fun and strategic depth to entertain a table with a range of casual and hardcore gamers.
Boss Monster is a standalone game that includes 155 cards ...everything that 2-4 players need for endless hours of dungeon-building, hero-slaying fun!