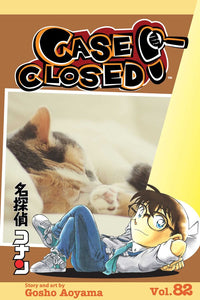 Can Detective Conan crack the case…while trapped in a kid's body?

When ace high school detective Jimmy Kudo is fed a mysterious substance by a pair of nefarious men in black—poof! He is physically transformed into a first grader. Until Jimmy can find a cure for his miniature malady, he takes on the pseudonym Conan Edogawa and continues to solve all the cases that come his way.

Serena introduces Makoto to her parents! Her dad is thrilled to learn that his daughter is dating a karate champ, but all her mom sees is a brawler from the wrong side of the tracks. Makoto decides to prove himself by stopping the Kaito Kid from robbing Serena's family yet again—and he's even more motivated when he suspects the Kid might also steal Serena's heart!

Then Conan finds the owner of a lost cat, but the case goes from fluffy to fatal. And Detective Takagi wonders if his girlfriend, Detective Sato, is investigating for two!