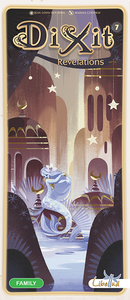 Myths come alive and masks fall away in Dixit: Revelations, an expansion for the award-winning game of art and storytelling, Dixit.
This is not a stand-alone game. A copy of Dixit is required to play.
Featuring all-new art by French illustrator and visual animation developer Marina Coudray, Dixit: Revelations takes you to ancient worlds full of modern technology and urban settings full of enchantments. Influenced by the artistic styles and movements of the early twentieth century, including Art Deco, Cubism, Fauvism, and Surrealism, Coudray's timeless illustrations are certain to inspire Dixit players of all ages.