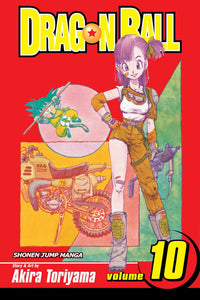 Eath's greatest hero...is from outerspace!Dragon Ball
 introduces a young monkey-tailed boy named Goku (a wry update of the classic Chinese "Monkey King" legend), whose quiet life changes when he meets a girl named Bulma who is on a quest to collect seven "Dragon Balls." If she gathers them all, an incredibly powerful dragon will appear and grant her one wish. But the precious orbs are scattered all over the world, and Bulma could use the help of a certain super-strong boy... (In Japan, 
Dragon Ball
 and 
Dragon Ball Z
 were originally a single 42-volume series. VIZ Media's 
Dragon Ball
 contains vols. 1-16 of the original Japanese 
Dragon Ball
, from the beginning of the series to the climax of Goku's last fight with Piccolo.)
Goku needs just one more Dragon Ball to wish Upa's father back to life...but the Ball is in the hands of an old enemy! Then, Goku and his friends part ways, promising to meet again in three years at the Tenka'ichi Budôkai, the "Strongest-Under-the-Heavens" Martial Arts Tournament. But this time the competition is stronger than ever: Tenshinhan and Chaozu, the deadly disciples of Tsuru-Sen'nin, the Crane Hermit! Will Kame-Sen'nin's turtle-style kung fu beat crane style? Or will their strange new opponents be triumphant?