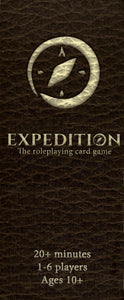 Expedition is a cooperative adventure game for 1-6 players ages 10+. Expedition can be played with or without a GM, and is enjoyed by players of all experiences levels.
Powered by a free companion app with over 100 quests (and growing), there's always something new to play. Adventures range from short family-friendly comedies to whole-night epics and multi-night campaigns. The app even has online multiplayer, so you can play with friends no matter where they are.
-from the back of the box
Expedition: The Roleplaying Card Game is a fast RPG that expedites character creation and combat, allowing adventurers to immediately jump into the action.
Expedition uses an open source, cross-platform app that is free on iOS, Android, and web browsers. The app comes with a variety of pre-built adventures and also provides tools for you to create and tell your own stories. The game makes use of a unique card-based system for combat. Each player has a deck of eight unique ability cards. Every turn, each player draws three cards, then chooses one to play. This must be done quickly, however, because the app times combat; if your party takes too long, you suffer additional damage! This simulates the hectic nature of battle and balances the time spent role-playing and performing combat.
The Deluxe Edition includes everything you need to play Expedition, plus The Horror and The Future expansions. It also features upgraded components: thicker cards, custom clips and a larger, future-proof box.