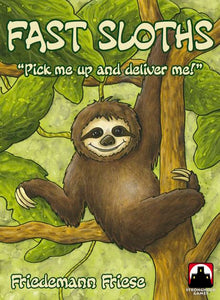 You are sloths — cuddly, lazy, and, oh well, slothful.
All animals (including humans) like to take vacations, so everyone is together at a country resort. We sloths are sitting around, of course, while all the other animals are running throughout the resort. We want to look around, too, and travelling around the resort to pick up tasty leaves would be great — but running around ourselves is just too tedious. All the other animals are having fun, and we want that, too, but...we are so slothful.
And then we have an idea: We'll let ourselves be carried around by the other animals, thus getting around nicely. The others animals have so much energy that they'll even gladly carry us. They aren't slothful! Which of us sloths will be the first to get through the entire country and be victorious? We are ambitious, but so lazy!
Fast Sloths (a.k.a. "Faultier" in German) is a race game that at its core is a classic pick-up-and-deliver game — except that we ourselves are the cargo being delivered. We are being carried along the whole way and never take a single step on our own!
You always play with six out of twelve different animal species, and you can place the giant game board in four different combinations. On a turn, you draft 2-3 cards of different animal types from the top of their face-up decks, then you play as many animal cards as you like of a single type. Each animal provides a different type of movement or interaction with you, with ants carrying you along in a chain and the elephant throwing you with its trunk.
Fast Sloths is a game free from randomness that evolves only through the interaction between the players, doing so without any "take that" mechanisms — except for you snatching an animal from under the other players' noses because you need to use it yourself.
Each race offers new challenges for you to get to the different trees faster than the other sloths. Enjoy all 256 different combinations, each with countless starting positions of the animals on the game board...and we are already working on new game boards and more animals for even more fun combinations!