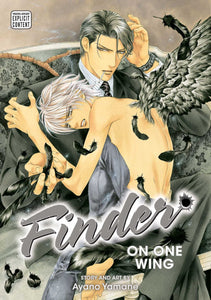 Pain and pleasure collide when a sophisticated underworld boss crosses paths with a naive photographer hell-bent on bringing him down!
This deluxe edition includes never-before-released material as well as a double-sided color insert and special cover treatment! In Finder, Photographer Takaba Akihito takes on a risky assignment trying to document the illegal activities of the Japanese underworld. When he captures its leader—the handsome, enigmatic Asami Ryuichi—in the crosshairs of his viewfinder, Takaba's world is changed forever.
Freelance photographer Akihito Takaba has something Fei Long wants, and the crime boss will stop at nothing to get it, including kidnapping the young photographer's friends! Akihito turns to the only person he can think of for help, Fei Long's former lover and current rival Asami Ryuichi. But when Asami's old flame meets his new replacement, sparks fly!