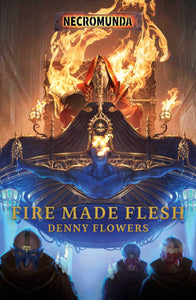 Adrenaline-fuelled action from the Underhive.
The Fallen Dome of Periculus, once a hub of sanctioned commerce and illicit dealings, is lost no more… and the prizes it holds are sought by noble, Guilder and hive scum alike.
For Tempes Sol of the Guild of Light, Periculus is an opportunity to not only prove his superiority over his superstitious peers, but also to see the end of Lord Silas Pureburn, Keeper of the God-Emperor's Eternal Flame, bringer of fire and faith to the rioting masses, and his most hated rival.
But Periculus did not fall by chance. Dark secrets lurk in its shadows – forbidden archeotech, twisted creatures that feast on flesh, and an insidious rage that afflicts all who dwell inside its confines. As madness and violence erupt within the fallen dome, the legacy of Periculus threatens not only to consume the underhive, but ultimately Hive Primus itself…