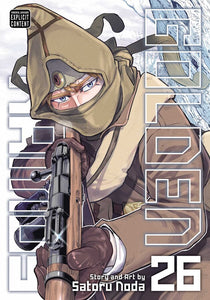 A tale of high adventure and survival!
In the early twentieth century, Russo-Japanese War veteran Saichi Sugimoto searches the wilderness of Hokkaido for a hoard of hidden gold. With only a cryptic map and a native Ainu girl to help him, Saichi must also deal with every murderous cutthroat, bandit and rogue who knows about the treasure!
The serial killings in Sapporo turn out to be the work of the infamous Jack the Ripper, who fled to Japan after his murderous spree in London. After tracking him to the Sapporo Brewery, Sugimoto's and Hijikata's groups have teamed up to find him before Lieutenant Tsurumi and the 7th Division. Keiji Ueji, another tattooed convict, is also on the scene and may hold the final key to the code leading to the lost Ainu gold. As a skyrocket lights up the night sky, a violent confrontation is about to explode in the brewery!