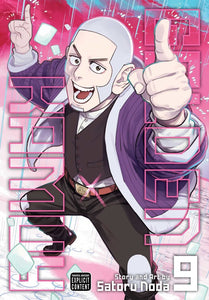 A tale of high adventure and survival!
In the early twentieth century, Russo-Japanese War veteran Saichi Sugimoto searches the wilderness of Hokkaido for a hoard of hidden gold. With only a cryptic map and a native Ainu girl to help him, Saichi must also deal with every murderous cutthroat, bandit and rogue who knows about the treasure!
After their run-in with the mad taxidermist Edogai, Asirpa, Sugimoto and Shiraishi still have unfinished business in Yubari. But if their goal is to meet Noppera-bo face-to-face, they will need to hear Shiraishi's story about how he escaped from the hellish Abashiri prison the first time. Toshizo Hijikata would also like to have a little chat with them regarding Noppera-bo, and there is the matter of the 7th Division, whose members are closing in...