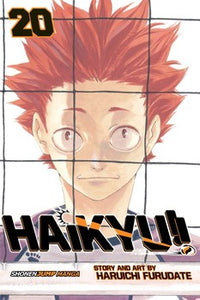 Shoyo Hinata is out to prove that in volleyball you don't need to be tall to fly!
Ever since he saw the legendary player known as "the Little Giant" compete at the national volleyball finals, Shoyo Hinata has been aiming to be the best volleyball player ever! Who says you need to be tall to play volleyball when you can jump higher than anyone else?
The fourth set of the Miyagi Prefecture qualifier round finals is a nail-biter! Karasuno's back is against the wall, and their middle blockers continue to give it all they've got. The tense back-and-forth continues, but towards the end of the set, Kageyama starts looking a little off. With loss looming overhead, can Karasuno pull themselves back into the game?!
The manga behind the hit volleyball anime about a boy who has a dream to overcome his physical limits and fly.