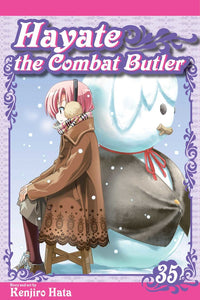 A hilarious tale of butlers, love and battles!
Since the tender age of nine, Hayate Ayasaki has busted his behind at various part-time jobs to support his degenerate gambler parents. And how do they repay their son's selfless generosity? By selling his organs to the yakuza to cover their debts! But fate throws Hayate a bone…sort of. Now the butler of a wealthy young lady, Hayate can finally pay back his debts, and it'll only take him 40 years to do it.
Life in a boardinghouse with a combat butler and a bevy of charming young ladies isn't as much fun as it might sound. Well, okay, it is, but the residents still have to deal with mundane problems like trash day, dining out cheap and what to do on summer break. And things look bleak for the girls who have crushes on Hayate (that is, all of them) when glamorous idol singer / adorkable manga artist Ruka decides to woman up and confess her feelings. How can the boardinghouse—nay, the manga itself—survive the resolution of romantic tension?