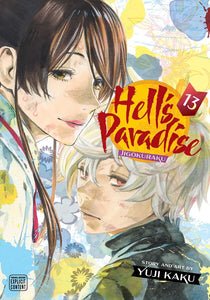 Even an invincible ninja may not be able to survive Hell's Paradise!

Gabimaru is a ninja on death row with one chance to see his wife again—by finding the elixir of immortality on a supernatural island and delivering it to the shogun. Standing in his way are his fellow convicts and the fearsome beasts that roam the island, devouring or killing anyone they encounter.

Rien's master plan spells disaster for not only everyone on the island, but everyone on the mainland as well! A mission that began with a search for immortality may end with widespread death and destruction unless the survivors on the island can somehow vanquish what remains of Lord Tensen. Gabimaru will do anything to return to his wife in the conclusion of Hell's Paradise: Jigokuraku!