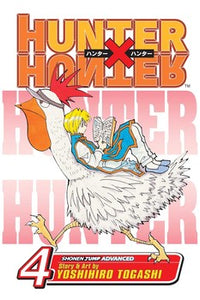 The fourth exam rages on as the Hunter hopefuls try to gain points by stealing each other's badges.
Gon, Kurapika, and Leorio fall into a trap set for another applicant and must face a pit full of poisonous snakes. When Leorio is bitten, Gon braves the snakes to snatch the antidote and a badge!
Finally, the friends reach the end of the exams and the ultimate "reverse tournament"--the winner of each round automatically passes the Hunter exam, but the defeated keep competing against each other until the last candidate standing fails the exam.
Killing an opponent means immediate failure--will Killua's rage stand in the way of his dream to become a Hunter?