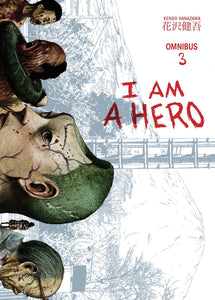 Hideo and his new ward, young Hiromi, head out of the desolate forest they've been hiding in, hoping to find refuge at a local shrine. Once there, however, they soon realize that populated areas are just as dangerous as the haunted woods they've left! A new ally may help them find a safe place to hole up again--but one quick, deadly bite could threaten all of their lives! Collecting two of the original Japanese volumes into each Dark Horse edition, this value-priced excursion into the world's weirdest zombie apocalypse is not to be missed!
"I Am a Hero is probably the greatest zombie manga ever. It has the slow buildup of a psychological horror manga, but when the zombies hit, they hit hard, and the manga accelerates into volumes-long fight-or-flight sequences that seem like they'll never stop." -Jason Thompson (
Manga: The Complete Guide
)
..". an amazing story that puts it firmly in my Must Read list of manga. If you like zombie stories and are curious as to what other countries might have to offer to the genre, trust me when I say, you do not want to skip this one."