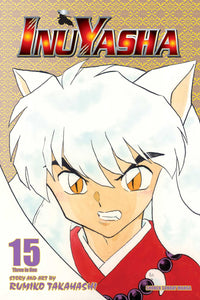 Kagome is an ordinary modern schoolgirl living an ordinary life. Who would have thought the dried-up old well on the site of her family's shrine would be a gateway to Japan's ancient past? Drawn through the gate against her will, Kagome finds herself battling demons for control of what she thought was a worthless trinket but is actually a powerful magical gem, the Shikon Jewel! Together with an unlikely ally, the half demon Inuyasha, Kagome begins a quest to recover the shards of the Shikon Jewel and learn more about her link to the past.
Inuyasha embarks on a quest to learn how to properly handle his blade Tetsusaiga. Unfortunately, the master trainer he seeks has problems of his own. Can Inuyasha solve them without accidentally slaying innocent women, children and even harmless demons?
Then, Inuyasha must rescue wolf demon Koga, his rival for Kagome's affections - but at what terrible price?!
And when one of Naraku's plans backfires, the evil schemer must face an internal enemy as well as Moryomaru. Has Naraku finally met his match in the form of one of his own creations..?