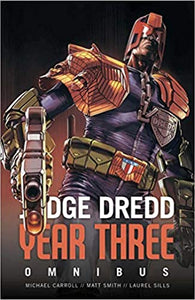 The third omnibus collecting three great brand-new novellas about the early years of iconic comics character Judge Dredd's career.
Mega-City One, 2082. In two short years, Judge Joseph Dredd has tackled hardened killers and would-be revolutionaries, he's taken beat-downs and bounced back, he's even arrested his own brother.
Ain't no such thing as a "normal year" in the Big Meg. In his third year on the sked, he'll become embroiled in the growing anti-robot movement; he'll head back out to the Cursed Earth; and he'll fall afoul of the secretive SJS - and not for the last time...