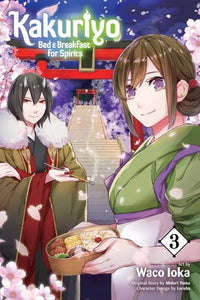 Faced with the choice of being married to a strange spirit or being made into dinner, Aoi creates a third option for herself!
Aoi Tsubaki inherited her grandfather's ability to see spirits—and his massive debt to them! Now she's been kidnapped and taken to Kakuriyo, the spirit world, to make good on his bill. Her options: marry the head of the inn her grandfather trashed, or get eaten by ayakashi. But Aoi isn't the type to let spirits push her around, and she's determined to redeem her grandfather's IOU on her own terms!
Aoi wasn't the only orphan her grandfather Shiro took in. Before she went to live with him, he rescued the spider demons Akatsuki and Suzuran and put them to work as unpaid servants! Now Aoi is questioning everything she thought she knew about her upbringing. What was Shiro up to? And more importantly, does that make the spider demons 
family
?!