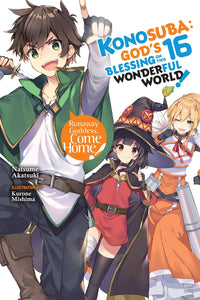 In the wake of the chaos wrought by Selena, Aqua runs away from home, leaving only
a note behind...bearing a request to chase after her. With everyone's favorite mascot
nowhere to be found, the whole of Axel descends into tumult. However, with Kazuma
having reverted to level one, there isn't much he can do to help. That is, until Megumin
drags him off to do some Giant Toad hunting and he gets a power up so crazy it's
basically cheating. It's time to get off the couch and chase after that runaway goddess!