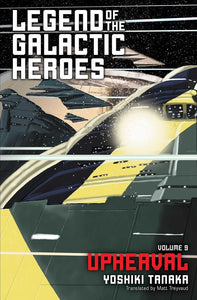 It's the master tactician of the ruthless Galactic Empire versus the Free Planets Alliance in Japan's greatest space opera epic!
In the thirty-sixth century, humanity has conquered the galaxy and colonized countless star systems. The Galactic Empire, modeled along Prussian lines, and the democratic Free Planets Alliance are at war, and the fate of every human being in the universe hangs in the balance. This classic Japanese space opera, adapted into a legendary anime, is finally available in English for the first time.
The irregulars of the Iserlohn Republic, still loyal to the ideals of their former leader Yang Wen-li, rally around Yang's successor Julian as he strives to live up to his inherited responsibilities. Meanwhile, in the empire, Kaiser Reinhard survives an attempt on his life only to be confronted with the devastating sins of his past when he learns the true identity of his would-be assassin. Despite rumors of treason on the part of Neue Land governor-general Oskar von Reuentahl, the kaiser pays a personal visit to that territory, where an even greater shock lies in store.