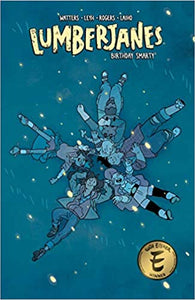 The New York Times bestselling graphic novel series continues with the biggest Lumberjanes birthday party yet - that is, if Jo can make it back in time to celebrate!
BIRTHDAYS TO THE MAX!
Jo's birthday is coming up, and April is determined to pull out all the stops for her best friend! But when her elaborate plans for a huge, over-the-top celebration fall through, April recruits the yetis and some fellow 'Janes to put on a play for Jo, instead. 
Meanwhile, Mal has been tasked with keeping Jo busy to protect the surprise, but she might've done TOO good a job. Will the birthday girl make it back in time for her own party? And does she even want to?
Join the celebrations with this brand-new adventure written by Shannon Watters and Kat Leyh (Super Cakes) and illustrated by talented newcomer AnneMarie Rogers.