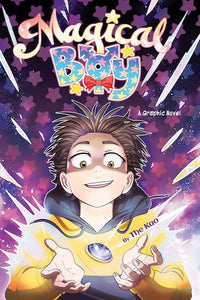 A breathtakingly imaginative fantasy series starring Max – a trans high school student who has to save the world as a Magical Girl … as a boy! Although he was assigned female at birth, Max is your average trans man trying to get through high school as himself. But on top of classes, crushes and coming out, Max's life is turned upside down when his mom reveals an eons old family secret: he's descended from a long line of Magical Girls tasked with defending humanity from a dark, ancient evil! With a sassy feline sidekick and loyal gang of friends by his side, can Max take on his destiny, save the world and become the next Magical Boy?
A

 

hilarious

 

and

 

heartfelt

 

riff on the magical girl genre made popular by teen manga series,

 

Magical Boy

 

is a one-of-a-kind fantasy series that comic readers of all ages will love
With

 

full-colour illustrations

 

inside
From popular illustrator and comic artist, Vincent Kao, as The Kao.