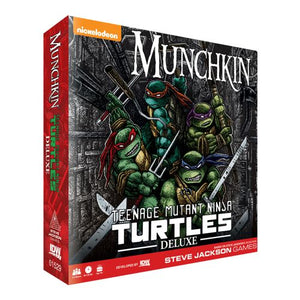 Steve Jackson Games' Munchkin and Nickelodeon's Teenage Mutant Ninja Turtles team up for a brand-new Munchkin experience!
Munchkin: Teenage Mutant Ninja Turtles puts you right into the roles of the Turtles to team up and fight evil! This game takes the butt-kicking, backflipping ninja stylings of the TMNT and combines it with the dungeon-exploring, loot-hoarding gameplay of Munchkin! Play as Leonardo, Donatello, Michelangelo, and Raphael along with April O'Neil and Casey Jones to take on Shredder, Krang and even more as you race to level 10.
Adopt special fighting styles and learn powerful Katas as you gain Levels and collect gear. The monsters of Munchkin have never been tougher, so now more than ever it's important to team up with other players to unleash powerful abilities against your foes. Don't want to let your friends get ahead? Team up with one of over a dozen different classic allies — from Master Splinter to Sally Pride!
Ever imagined being Casey Jones wearing Shredder's Helmet, Bebop's Sneakers, wielding Leonardo's Katana, all in a pizza chef suit? You can even make him untouchable with the Heightened Reflexes Kata so he cant get hit by traps, and partner him up with Master Splinter for backup so you're ready for battle!