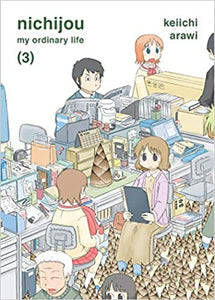 Following the surreal adventures of the young inhabitants of Tokisadame city, Nichijou is already making waves with its blend of strange situations and bubbly cast of characters.
Set in a strange school where you may see the principal wrestle a deer, or a robot hide the school lunches, the days that unfold in Nichijou are curious and hilarious, if not downright bizarre.
However amidst all the chaos and comedy Arawi still takes time to share everyday slice of life stories giving readers an insight to modern Japanese youth culture.