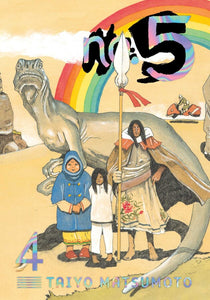 A powerfully imagined vision of the future from Taiyo Matsumoto, creator of the Eisner Award–winning

 

Cats of the Louvre

 

and

 

Tekkonkinkreet.

In a world where most of the earth has become a harsh desert, the Rainbow Council of the Peace Corps has a growing crisis on its hands. No. 5, one member of a team of superpowered global security guardians and a top marksman, has gone rogue. Now the other guardians have to hunt down No. 5 and his mysterious companion, Matryoshka. But why did No. 5 turn against the council, and what will it mean for the future of the world?

With disbandment imminent, Mike—No.1, the leader of the Rainbow Brigade—goes renegade, and uses his awesome powers to take many members of the unit with him. Now holed up in his citadel while the Peace Corps lays siege, he awaits his fate at the hands of the only person who can kill him…or understand him—No. 5.