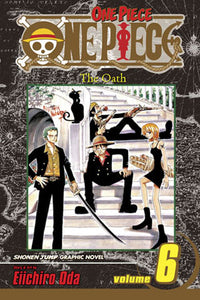 Luffy's pirates thought they were just stopping in for a quick bite...but now Luffy's been made a busboy on Baratie, the oceangoing restaurant, and it turns out some of the worst-mannered pirates on the Grand Line are just dying for a meal.
Always one to look on the bright side, Luffy sets his sights on Sanji, the smart-talking, skirt-chasing assistant chef on the Baratie, as the 
Merry Go
's new cook. But it'll take more than a vicious pirate battle and a little sweet talking from Nami to convince him to leave the Baratie and join Luffy's team. His oath to feed any and all pirates in need keeps getting in the way. The question is: what do you do when the very same pirates you just fed now want to serve you up for dinner?