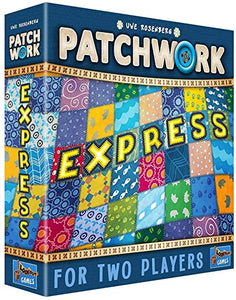 Patchwork Express features the same basic gameplay as Patchwork, however it's faster and has more colourful and less complex pieces. This makes it more suitable for younger children than the original version but if you are a fan of the original and looking for faster gameplay then this could also be a good choice.
Patchwork Express is played on a personal 7x7 game board where each player tries to build the most aesthetic (and high-scoring) quilt by placing different pieces together like in Tetris. The pieces of the quilt are represented by tiles of different shapes and sizes and at the start of the game these are randomly arranged in a circle.
On your turn you can either advance your piece and receive buttons (in-game currency) or take and place a piece. Each piece has a different cost assigned to it and will need to be arranged carefully on your board to stop gaps appearing.
However, there are six 1x1 patches to pick up as the game progresses as well as some smaller pieces which are introduced later on in the game to fill up gaps in your quilt, if you can get them before your opponent.
The player with the most buttons and the best patchwork quilt at the end of the game is the winner.
The game is very simple to learn, attractive to look at and there is enough meaningful decisions to keep things interesting. Patchwork is one of the most loved two player tile- laying games and with good reason.