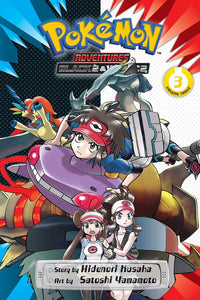 Awesome Pokémon adventures inspired by the best-selling Pokémon Black 2 & White 2 video games!
Two years have passed since Team Plasma was defeated and Trainer Black was sucked into the Light Stone along with Legendary Pokémon Reshiram… Now Team Plasma is back to its wicked ways, controlling other people's Pokémon and even wild Pokémon with technology. Luckily, a new young hero and Looker of the International Police are on their trail…
Castelia City has been frozen over by Kyurem and is now locked in ice. White is still searching for the whereabouts of Black, who has been missing since the battle against Ghetsis. And Fennel has come up with a theory that the Light Stone is actually connected to the Pokémon Dream World. Will Black, White, Blake and Whitley be able to team up in time to stop Ghetsis, Colress and Kyurem at the Giant Chasm?