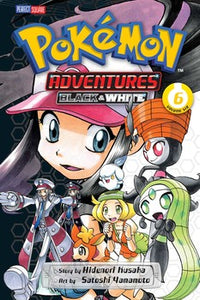 Pokémon Trainer Black meets White, a Pokémon Trainer who runs a growing talent agency for performing Pokémon. Will Black catch show biz fever too?
Meanwhile, mysterious Team Plasma is urging everyone to release their beloved Pokémon into the wild! Team Plasma launches an all-out attack on the Nacrene Museum! What will they steal and who will they kidnap...? Black undergoes grueling training to prepare to fight the Legendary Pokémon Zekrom. And White's new battle skills are put to the test when Bianca needs help protecting an innocent Pokémon.
Then, flash back in time to see the first spark of Black's dream to become the Pokémon League Champion... HOW DID BLACK CAPTURE HIS FIRST POKÉMON...AND WHO WAS IT?