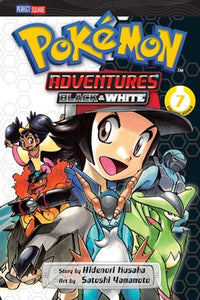 All your favourite Pokémon game characters jump out of the screen into the pages of this action-packed manga!
Pokémon Trainer Black meets White, a Pokémon Trainer who runs a growing talent agency for performing Pokémon. Will Black catch show biz fever too? Meanwhile, mysterious Team Plasma is urging everyone to release their beloved Pokémon into the wild! What are they thinking?!
Now Black and White are off on their own separate journeys of discovery... Black trains hard to prepare to rescue the Gym Leaders from Team Plasma's clutches. Then he tries to convince a group of embittered Pokémon to trust humans again, while Trainer Alder tries to convince Team Plasma's King N that the Pokémon League exemplifies the powerful bond between Pokémon and Trainer.
Now, will Black be able to enter the Pokémon League and fulfill his dream? And if so..will he win? And will Black and White ever be together again...?