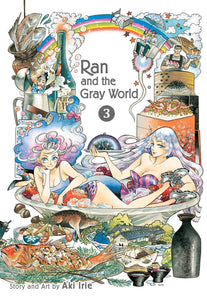 A young sorceress transforms into an adult and sets out on magical adventures full of charm and wonder!
Ran Uruma can't wait to grow up and become a sorceress like her mother, so with the help of a magical pair of sneakers, she transforms into an adult and sets off! Her father and older brother Jin try to keep her home safe, but Ran is determined to advance her powers and have adventures of her own!
Even as Otaro recovers from his injury, bugs continue to attack him in his dreams. Ran decides to use her powers to save him, but she might not be strong enough to eradicate the bugs… Meanwhile, Jin's animal instincts take over and send him on the hunt for the right mate. Who will turn out to be his chosen one?