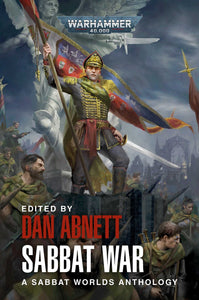 Fantastic anthology full of stories from the Sabbat Worlds.
The Sabbat War is a savage Imperial crusade, cutting a bloody, burning path across a vast swathe of the Imperium. On the front line, the stalwart regiments of the Astra Militarum, including the valiant Tanith First – known as Gaunt's Ghosts – confront the relentless menace of Chaos, the Archenemy of Mankind. There is, and ever will be, only war.
This anthology will take you to the very forefront of the blistering action in the Sabbat Worlds, and features brand new stories from some of Black Library's most acclaimed authors, including Dan Abnett, Graham McNeill, John French, Matthew Farrer and Rachel Harrison.