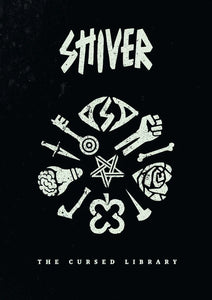 The Cursed Library
A Military operation discovers horrors aboard a lost ship in the Arctic circle.
A group of 1980's kids explore a haunted house on Halloween night.
A Wild West posse investigates mysterious disappearances at a mountain mine.
A crew answers a distress signal in the uncharted depths of deep space, only to find more than just survivors.
Broken down with no way home, a group search for help at an old farmhouse through the cornfields.
The Cursed Library collects these five tales of horror across the ages to be used with the SHIVER tabletop role-playing game.