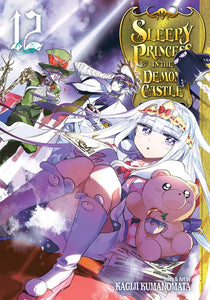 A captured princess just wants a good night's sleep! Shhh…
Kidnapped by the Demon King and imprisoned in his castle, Princess Syalis is…bored.
The Demon Castle staff procure a flock of Monster Bird chicks to ensure a steady supply of eggs, but their problems only grow. The princess's efforts to help the Demon Castle weather a financial crisis range from the criminal to the musical. Mechanical Zone boss M.O.T.H.E.R. creates a mechanical marvel modeled after the most fearsome resident of the castle. Now who would that be…? And then the princess must operate the mecha in battle against the hero Dawner, who is determined to "rescue" her from her beloved new home. Plus, the secret of the Demon King's horns and an herbaceous invasion!