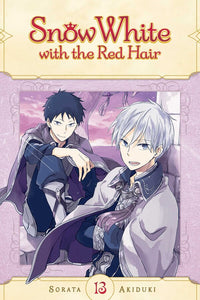 A romantic retelling of a classic fairy tale about a beautiful herbalist and a lovestruck prince.
Shirayuki is an herbalist famous for her naturally bright-red hair, and the prince of Tanbarun wants her all to himself! The prince from the neighboring kingdom, Zen, rescues her from her plight, and thus begins their love story.
Shirayuki is headed to Lilias to work as an herbalist and researcher. However, she can't hold back the tears when she realizes how much she'll miss everyone. Luckily, Zen knows just what to say to her! And later, Obi makes a stunning confession to Zen.