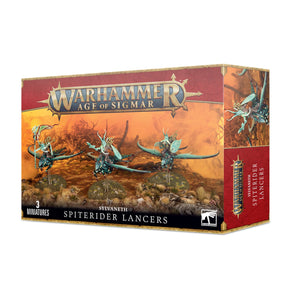 The Spiterider Lancers are Alarielle's elite cavalry, mounted upon agile Dragonspites whose bodies thrum with the energies of Life. Taming one of these ancient insectoid predators is a quest in itself – their forest spirit riders deftly swoop and whirl above the battlefield before suddenly diving into a charge, striking the enemy lines with shocking force. The enemies of the Everqueen are left with nowhere to hide when the Spiterider Lancers are unleashed from the vales.


This multipart plastic kit builds three Spiterider Lancers, forest spirits mounted atop insectoid dragonspites. Wearing knightly horned helms and armed with long magical spears, these elite cavalry fighters can soar across massive distances into a devastating charge, and are infused with vital energies that allow them to repair all but the most grievous wounds. One Spiterider Lancer can be assembled as a Spiterider Scion unit leader, another as a Banner Bearer, and another as a Hornblower. The kit includes a variety of shield designs, heads, and different ways to assemble each dragonspite, as well as a choice of two different instruments for your Hornblower, so no two units need look the same. This set can alternatively be assembled as Revenant Seekers.

This kit comprises 82 plastic components, and is supplied with 3x Citadel Flying Stems with 60mm Flying Bases. These miniatures are supplied unpainted and requires assembly – we recommend using Citadel Plastic Glue and Citadel paints.