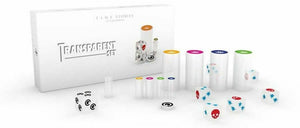 Upgrade up your T.I.M.E Stories game with the Transparent Set!
Enhance the coolness of your white, sleek and elegant T.I.M.E Stories Core Box with these amazing components.
Fully compatible with all T.I.M.E Stories scenarios
Gorgeous transparent pieces to upgrade all your wooden tokens.
Transparent dice to rise up to any challenges you'll face, and they roll better! (just kidding)
Experience the smooth feel of plexiglas as you travel through time and space.