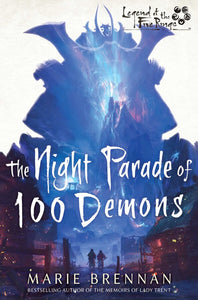 A thrilling epic fantasy adventure in the astonishing realm of

 

Legend of the Five Rings,

 

as two rival clans join forces to

 

investigate a lethal supernatural mystery

Chaos has broken out in the isolated Dragon Clan settlement of Seibo Mura. During the full moon, horrifying creatures rampage through the village, unleashing havoc and death. When the Dragon samurai Agasha no Isao Ryotora is sent to investigate, he faces even greater danger than expected. To save the village, he must confront his buried past – not to mention an unexpected Phoenix Clan visitor, Asako Sekken, who has his own secrets to hide. The quest to save Sebo Mura will take the two samurai into the depths of forgotten history and the shifting terrain of the Spirit Realms… and bring them face to face with an ancient, terrifying evil.