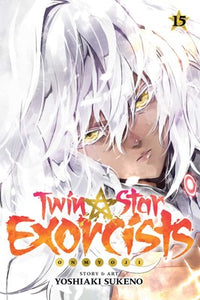 Exorcists Rokuro and Benio unleash serious supernatural action while purifying the world of monsters.
The "Twin Star Exorcists" are fated to produce the child prophesied to end the war with the monstrous Kegare… But can Rokuro and Benio get along for five minutes, let alone save the world?
As Benio begins the ritual to claim her true form, she is viciously attacked. In Magano, who will come to her aid? Meanwhile, Rokuro is eager to embark on the expedition to exorcise Benio's brother Yuto. But then a more pressing crisis arises!