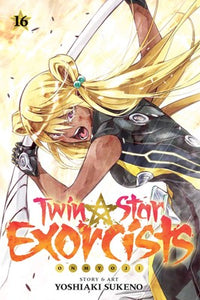 Exorcists Rokuro and Benio unleash serious supernatural action while purifying the world of monsters.
The "Twin Star Exorcists" are fated to produce the child prophesied to end the war with the monstrous Kegare… But can Rokuro and Benio get along for five minutes, let alone save the world?
Two of the Twelve Guardians are slain in battle—but not before passing on their spiritual guides. Are the recipients truly worthy…? And in the ongoing chaos, will Rokuro be able to protect his Enmado Family?